Within its years of use, 5.3 million tonnes of asbestos were imported into the UK for use in the construction industry. With landfill costs at a premium the Euro Polymers Eurotec Asbestos Encapsulation System offers the most cost effective and logical treatment to this costly and dangerous problem.
Gutters are a frequently neglected part of building maintenance until they start to leak, at which point the damage is already done both to the gutters and in collateral damage to the building, often both inside and out. With UK weather patterns becoming more dramatic and rain fall at an all-time high, gutters are under increasing pressure, having to manage larger volumes of storm run-off over longer periods.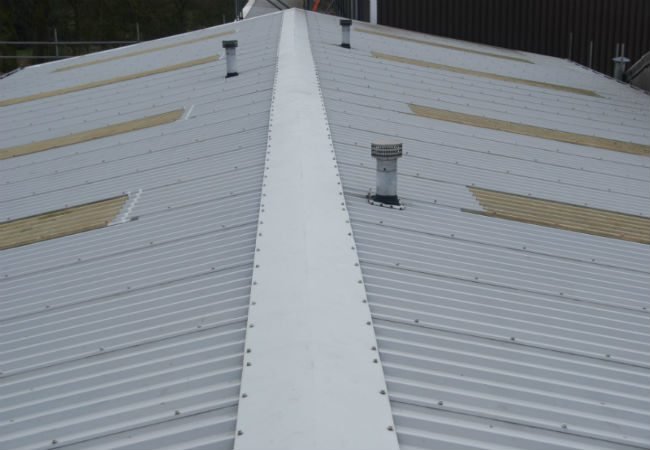 PLASTISOL & METAL ROOF REPAIRS
Metal buildings are not normally given a lifespan of more than a decade by either the manufacturer or the issuance of guarantees. However, using the Euro Polymers ME and Cladcote systems, metal roofs and walls can be restored to a "like new" state. We can create any colour and a building with this kind of investment upgrade is simply a more desirable location calling for a higher yield than one not treated. We estimate a return on investment of around 3-4 years. "Our buildings look like new" one of our happy clients commented.
CUT EDGE CORROSION TREATMENT
Metal when exposed to the elements will rust. Metal roofs with end of sheet cuts, roof lights, and protrusions such as smoke vents and air conditioning units have a multitude of areas where attack by rust is likely. Our CEC-Cote system treats this damage and restores your building to a "better than before" state which lasts for up to 20 years.
Flat roofs, in general, have a bad reputation. Over the years most of us have experienced a leaking flat roof, as a result many people will steer away from this altogether. However… this is like any other neglected aspect of our lives. You wouldn't buy a car and expect it to run for 10 years without the odd oil top up. You would not knowingly buy the same car if it was 4 cars welded together by a chop-shop.
Flat roofs work very well if they are done correctly by people who know what they are doing. Our belief is that, attending a one day GRP roofing course does not qualify a roofing contractor to deliver a premium product.
Plastisol cladded buildings can be brought back to life for relatively little cost but to great reward. With 10, 15 and 20 year coating guarantee options any building can look as good as the day it was handed over.
BALCONY REPAIRS & stairway systems
Worn, tired, damaged or leaking balconies can be messy business. So too can worn stairways that lead to water ingress into dwellings. Until now there have been limited treatment options. We at Euro Polymers deal with these issues all the time and have effective solutions from individual repairs to revamping entire estates of balconies and stairs. Our largest project of this type was over 30,000 mtr2 in London.
CAR PARK REPAIRS & RESURFACING
With the latest in technology that cures in 30 minutes and a client focussed ethos, our team optimises the amount of spaces that can remain open, so ensuring our clients can keep the car park open as much as possible. With out of hours programming doing such things as access ramps, our team can work through the night to allow clients to traffic our work within hours. Sunday nights are held for our retail clients who only close for a few hours per week.
We offer a full array of building envelope cleaning and maintenance to both bring new life into a neglected building and allow us to repair and maintain them thereafter for years to come.
GUARANTEED DILAPIDATION REPAIRS
Our dilapidation range of products are all based upon a 10 year system guarantee and designed to offer best value for money in support of a dilapidation clause in a building lease. As we manufacture and install we have a huge price advantage over an ordinary contractor who would have to purchase materials at additional margins.  We, in effect, have two margin sources and thus could take a contract on at no mark up for the contracting works and still make a margin on our materials. This is a very unique position within our sector and allows us to pass on the very best service and price to our customers.
ACCREDITATIONS
Euro Polymers is proud to hold the following accreditations:
Feel free to give us a call to see how any of the above services might service your commercial property needs.