premium balcony and stairway systems nationwide
Euro Polymers is a proud manufacturer of an extensive range of balcony and walkway systems offering both waterproofing and/or anti slip benefits. Even more important in this type of application though are the repair products which we offer.
These create a level and even surface to ensure that the aesthetics are also taken care of. These systems can be installed to a variety of different surfaces including concrete, asphalt and existing failing systems.
This system is ideal for application to balconies, terraces, platforms or walkways.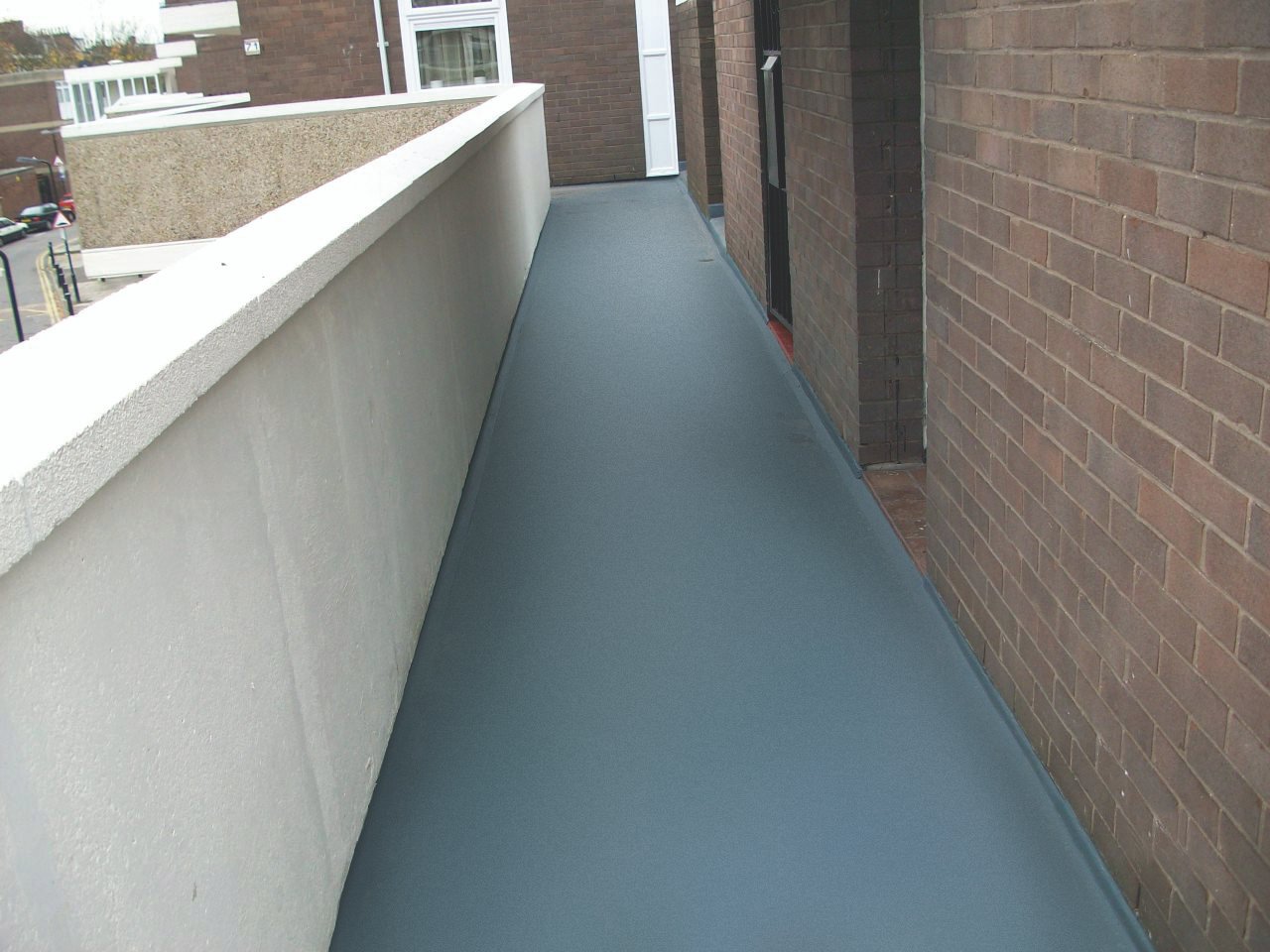 Balconycote & balconycote flex systems
Our Balconycote and Balconycote Flex systems are backed by an Unabridged warranty of up to 20 years. These systems are installed by our expert team of technician standard applicators.
Balconycote is a rapid curing, colourfast surface coating which dries to provide a slip resistant surface. 
Balconycote is a coloured liquid resin binder that incorporates fine aggregates to provide a slip resistant seamless finish. The pigmentation is UV resistant to avoid premature fading of the colour. The product is available with a range of Guarantees and Warranties from 10 to 15 years. Additional coats may attract extended Guarantees or Warranties, subject to site survey. Balconycote is flexible and has good resistance to wear and is capable of being maintained by over coating in the future, without the removal of existing layers. Balconycote is resistant to De–icing salts and spillages of Petrol, Oil. Balconycote is available in a range of 98 RAL and British Standard Colours and 6 standard colours.
Advanced formula waterproof traffic membrane for balconies, communal areas, terraces, stairs and railway platforms.
Balconycote Flex is a waterproof, durable, slip resistant, rapid curing traffic coating system. For uses on railway platforms, balconies and walkways, Balconycote Flex can be applied to both asphalt and concrete substrates. Available in three ranges of colour/finish. Colour through options of black, green, red, light, medium and dark grey. Naturals option of aluminium oxide or granite blend both with a clear sealer. Blended ranges of Azul, Verdi, Rouge and Carbon grey offer design option colour schemes (clear sealer again) Balconycote Flex offers ten or fifteen year warranties
NEED A BALCONY OR STAIRWAY UPGRADE?
Let Euro Polymers talk you through how we can best serve you. Call us today!
THE BENEFITS OF using our balcony & stairway systems
Take a look at a whole host of benefits of using the premium products that Euro Polymers have to offer for your commercial property balcony and stairway needs. 
Available in any RAL colour
Blended aggregate finishes
10, 15 and 20 year warranties
Here at Euro Polymers we know that you might have questions - please see the most frequently asked ones. If these still don't address your particular query please get in touch. 
In almost all cases this is achievable. The greatest problem in coatings is that preparation is often neglected, many contractors want to just clean and then coat. Without using the various fillers and repair products we produce, they will never get the surface properly prepared to receive the balcony system. We design and make both so know the correct product and system to use in all scenarios, this in turn allows us to offer a quality product that we can guarantee for up to 20 years.
We have crack fillers, hole fillers, structural repair mortars and expansion joint products that are produced to form a chemical cross link with the balcony coatings making them part of the system itself and allowing us to repair almost any level of damage. Some contractors will repair damage with cement based products however these can take up to 28 days to dry out, often causing the system to blow off due to the moisture trapped beneath. Simply put, we use the right tool for the job.
Our competition tend to use systems that can take up to 8 hours to dry. They will put walker boards down and ask tenants not to walk the coating into their house and claim new carpets from the landlord. We have systems that cure in 30 minutes so can knock on the door, "Will you be in or out in the next 30 minutes madam?" and avoid this type of claim. We complete whole balconies and stairways in 8 hours!
We have different systems for different balcony types but can anti-slip coat all these areas. We can fully waterproof and mark up trip hazards with nosing of a different colour and can also insulate and slab/promenade tile over our systems (if the height thresholds are suitable). We even design and fit all of the balustrades as well.
This is a huge problem for properties that have access stairs above dwellings as stairs often become porous over time. If left untreated for too long the only option might be to replace the whole structure, costing many thousands of pounds, we have developed a waterproof stair system that is guaranteed to work at a fraction of the replacement cost.