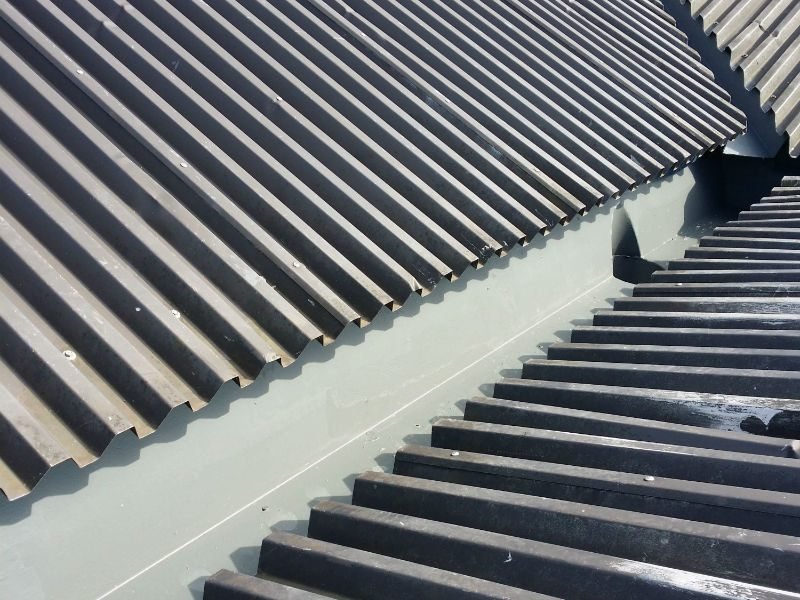 Euro Polymers' Gutter Lining coatings System
We manufacture and install our Guttercote system which has been specifically designed for the ever changing UK climate & the job in hand.
All types of gutter can benefit from this system.
We also have extensive experience in our field and can repair metal gutters that are rusted through or change spiggots to down pipes that have failed for example. With 10, 15 and 20 year unabridged warranties we can cover all requirements from cost effective solutions to long term guarantee needs.
THE BENEFITS OF OUR UNIQUE GUTTER LINING coatings
With all our experience with gutter linings in commercial building projects, we've know that there are benefits to our particular system
Monolithic – No joints to leak
Bonds completely to the substrate so avoids ballooning like some gutter liners often do
Can be applied to rusted gutters to waterproof and stop the rusting process.
When fully reinforced with a glass mat, the system can restructure a gutter too
HOMEBASE, BERWICK 
Homebase Berwick-upon-Tweed had suffered water ingress for many years. Due to the coastal position of the store, the building had been subjected to salt conditions, gull guano and had seen severe degradation to all metal aspects. Upon our initial survey, we established a great deal of damage to gutters, in some cases the metal gutter had rusted through, including some of the down pipe details. The end lap details had also started to erode, causing water ingress at several sections of the building.
PROPOSAL
Upon arrival to the site, Euro Polymers installed a Soter approved man safe system to provide safe access to the roof space for the duration of the works and thereafter for maintenance. The installation team then proceeded to jet wash the entire roof and gutter area, removing all loose rust, seagull guano and preparing areas for treatment. Gutters were cleared of debris and cut edge corrosion was abraded to remove any problem areas. The team then installed Guttercote 15, which was fully reinforced to provide additional strength and durability to this troublesome gutter. To the failing spigot details, we installed a set of 12 bespoke spigot details to ensure a complete gutter system was in place. Thereafter Euro Polymers CEC-Cote 15 system was applied to all rusted end lap details. To complete this project Euro Polymers replaced a series of bespoke roof domes above the entrance to the store.
Scope of works
Install soter man safe system

Intensive clean of roof and gutter areas

Guttercote 15 fully reinforced system

Bespoke spigot details to rectify issues with waste water management

CEC-Cote 15 system to all edge lap details

Replacement roof dome installation
Client Benefits
Leaks were removed from the store

Downpipes were fully operational due to the bespoke spigot detail – no further erosion of the building façade.

Soter approved man safe system installed offering safe access for further maintenance

15 year warranty on all works provided by Euro Polymers

Project was completed on time and on budget
Our premium Gutter Lining Systems are suitable can be applied to a number of different areas. Take a look at some of them below. 
Here at Euro Polymers we know that you might have questions - please see the most frequently asked ones. If these still don't address your particular query please get in touch. 
We have systems that can repair rusted metal, timber, concrete, asbestos, lead, felt, asphalt and even plastic gutters. Depending upon the nature of the damage, we have an assortment of repair products and coatings that can deal with any of the above.
From our experience gutter lining membranes are measured by the contractor, sent to a manufacturer and returned as a specific kit up to 10 days later.
They are difficult to install and need heat guns to melt the pieces together, a fire risk and one that very few contractors actually have insurance for.
The greatest issue however is that these systems are glued into the valley of the gutter and if this is rusty the glue can easily de-bond causing the membrane to balloon in the gutter and reduce the flow rate massively. They can also, in extreme areas, suffer from wind-uplift that sucks the membrane from the gutter and inverts it causing the water to run back into the building.
Our Guttercote system has been engineered to treat a rusty gutter. It cures in 30 minutes, has no joints that can leak, can cure at minus 40 degrees and even under water! A truly engineered system for the task.
In many cases we can re-structure the gutter with our system by adding in a glass fibre matting. If there are large holes in the gutter we can repair these with steel plating fixed to a solid aspect, which is then waterproofed into place using one of our various systems.
We regularly fabricate new spigots to fit into the gutter valley and into the down pipe, through the rusted away junction. These are made to measure and ensure a maximum flow rate to the gutter, after all it is getting wetter and wetter each year and gutters flow rates are forever being challenged.
Feel free to give us a call to see how any of the above services might service your commercial property needs.